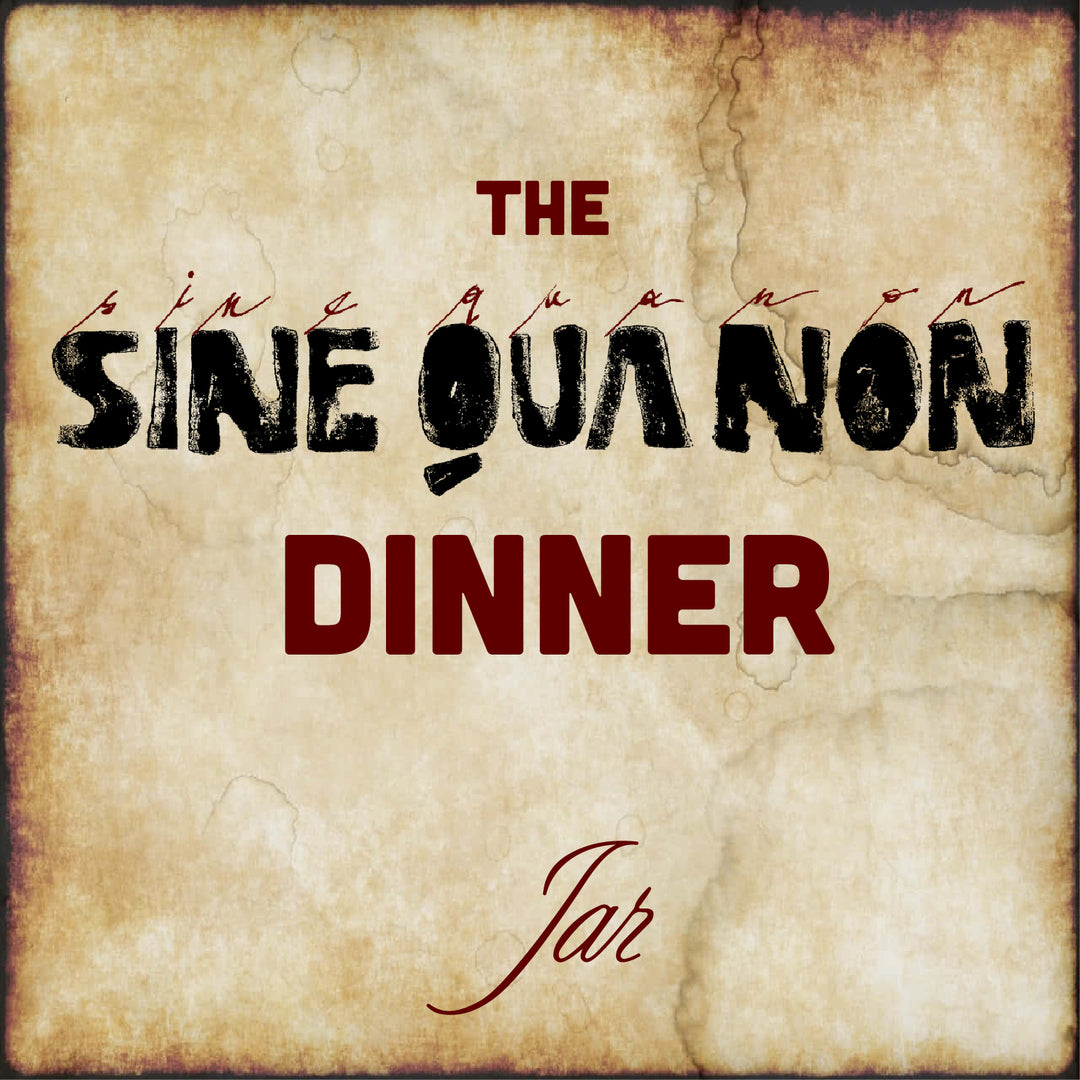 Last Ticket Remains! Now: $900 per person tax inclusive 

14 wines - 14 guests. Over $6000 worth fo SQN wines (retail) and $12000 at Restaurant value. We will enjoy a 4 course meal optimally paired by Chef. After initial Deposit of $100 you will be invoiced for balance plus 20% gratuity, and 3.5% credit card fee.
About SQN: There really is no wine producer like Sine Qua Non. Named after a Latin phrase meaning "without which, nothing," or "absolutely indispensable," SQN wine gives each new bottle in each new vintage a new name, a new label and a new bottle shape – all of which reflects their unique approach to winemaking. SQN wine doesn't have a set method, recipe or style for the wines they make. Rather, they see each year as a new experience and an opportunity to make a wine that reflects what nature has given.
SQN's fearless creators, Manfred Krankl and his wife, Elaine, have a lofty but simple ambition: to create a wine that every wine lover will want. SQN achieved its cult status quickly. By 2008, just fourteen years after their founding in 1994, seven wines they produced had earned 100 points from Robert Parker. Sine Qua Non wine focuses primarily on Rhône varietals (alongside non-Rhône-origin grapes such as Petit Manseng and Petite Sirah) and grows their wines in some of the best vineyards in California's Central Coast. Sunshine, top vineyard sites, mentorship from some of the best winemakers in the world and creative vision have become their hallmarks.
Credit: Sotheby's
WINE LIST | MENU TBA
FIRST COURSE
Sine Qua Non Aperta 2018 | WA100
Sine Qua Non Resiste 2013 | WA 97
SECOND COURSE
Sine Qua Non Grenache Eleven Confessions Vineyard Rattrapante 2012 | WA100
Sine Qua Non Grenache Into the Dark 2004 | WA99
Sine Qua Non Grenache Raven Series 2006 | WA98
Sine Qua Non Grenache Shakti 2014 | WA100
THIRD COURSE
Sine Qua Non Syrah Atlantis Fe203 1a, b & c 2005 | WA100
Sine Qua Non Syrah Eleven Confessions Vineyard Touche 2012 | WA100
Sine Qua Non Syrah Piranha Waterdance 2014 | WA100
Sine Qua Non Syrah Raven Series 2006 | WA100 
DESSERT
Sine Qua Non Mr. K Noble Man 2003 | V96
Sine Qua Non Roussanne Jinete Bajo Vin de Paille 2008 | WA96
*We can accommodate any dietary restrictions with a 72 hour notice.
1 bottle per paying guest, bottle selection subject to change without notice*



Credit: https://owenbargreen.com/blog/2019/7/29/sin-qua-non
Mandfred and Elaine will be consulted about our wine selections and will be fully informed but, they will be in the middle of harvest during this dinner.
One of the world's iconic wineries, Sin Qua Non started with an incredible vision with their first release in 1994 as Manfred Krankl's brainchild remains one of the most famed producers not only in the United States, but across the globe. Born in Austria, Manfred Krankl studied at the Hotel School in Gmunden, Austria and eventually moved to Los Angeles, California where he met his wife, Elaine. In 1989 Manfred became the wine director at Campanile and slowly began learning about winemaking. He first made wine from the 1990 vintage. He would later partner with wine legend John Alban until releasing his first wine, 'The Queen of Spades' in 1994 which was met with incredible critical acclaim.
Manfred and his wife now own 30 acres of estate vineyards and produce a massive range of wines, from Roussanne to Syrah to stunning dessert wines.

A driving force in the Los Angeles culinary scene, Suzanne Tracht has built JAR into one of the most beloved and successful restaurants in Los Angeles. Drawing inspiration from classic American comfort cuisine, JAR is a pilgrimage for passionate eaters and wine lovers from across the country. Opening in 2001 with the help of her longtime Chef de Cuisine Preech Narkthong, Tracht's modern American chophouse continues to receive acclaim for its atmospheric setting and exceptional steaks, braises, and seasonal sides—including her sumptuous signature pot roast, which along with her char siu pork has been cited by culinary heavyweights on the Food Network's popular series The Best Thing I Ever Ate as worthy of the show's title.

Jar, a modern chophouse in the heart of Los Angeles, dazzles Angelenos with the allure of Chef Suzanne Tracht's familiar retro dishes from the American culinary repertoire. Since it's debut in 2002, Jar's devoted fans return again and again to enjoy her signature Pot Roast, Kansas City Steak, wild and sustainable Seafood, Lemongrass Chicken, Black Mussels with Lobster Bearnaise & Fennel Salt, award-winning French Fries, market-fresh sides and perfectly mixed martinis.
8225 Beverly Boulevard, Los Angeles, CA 90048
Dinner Policy
All tickets are non-refundable.  We can adjust your menu for dietary needs up to 72 hours prior without any additional cost.  Wines can change without notice, failure or corked wine at the dinner does not result in any type of credit or refund.  We open one bottle minimum per paying guest, and can reduce the total number of bottles being opened so that the dinner does not have to cancel should ticket sales not reach the minimum.  Fewer bottles  / larger pours - you will get the same quantity of wine and we always open the best wines for the quality of the event.  Cancellation due to illness is not allowed, you may however take food to go - or assign your seat to someone else without fee.  The perishable nature of our product requires no cancellation, no credit, no refunds for any reason.
Deposit 
1.  Make the $100 deposit.
2. We will issue you an agreement for the balance.
3.  Deposit is non refundable should the event go forward and you have not returned the agreement.  Deposit is 100% refundable if the event does not go forward.
4.  Due to credit card companies keeping the 3.5% credit card fees - we have moved our premium events in to a deposit and final payment phase so that we do not suffer large losses if the event cancels for any reason.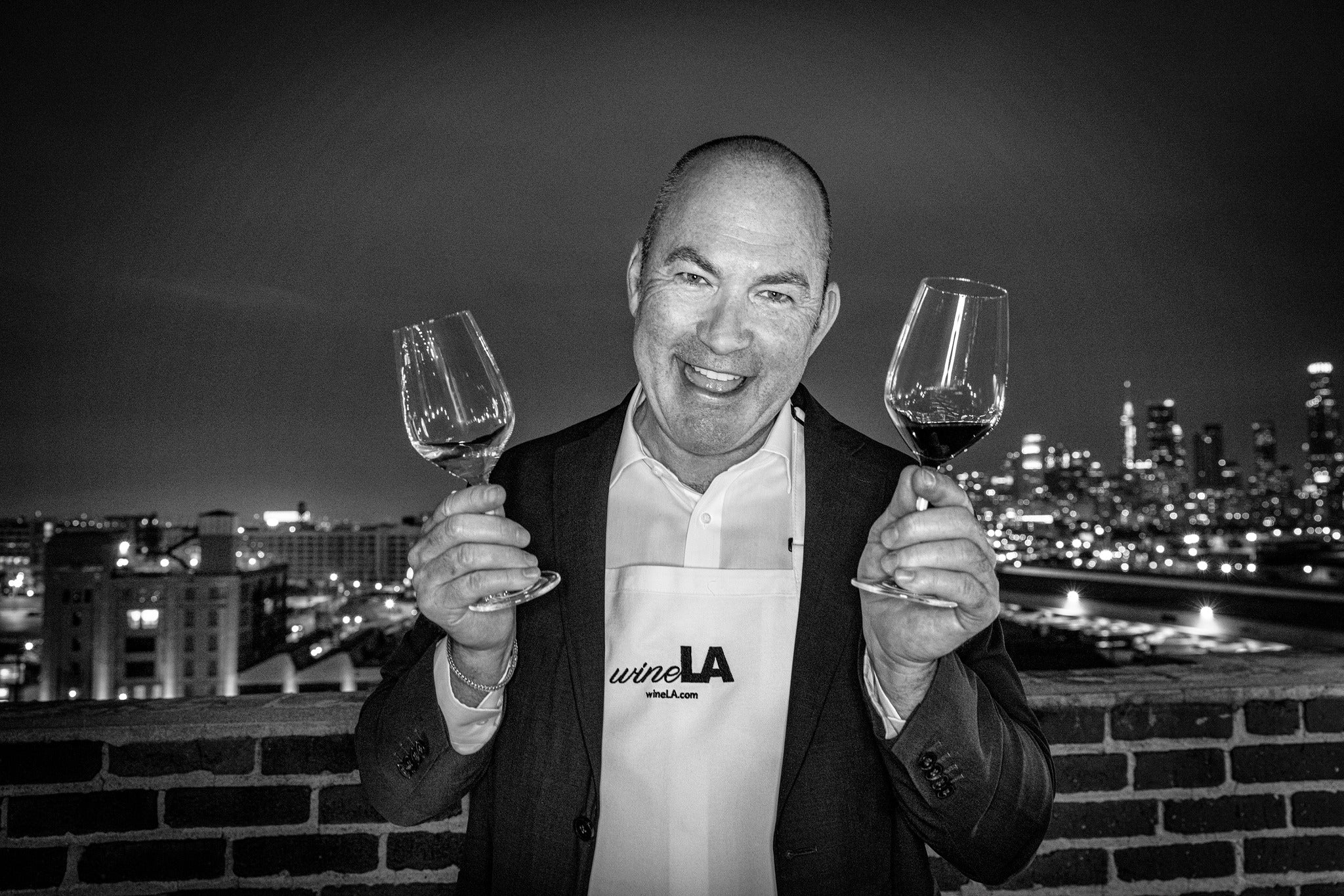 About
IAN BLACKBURN
I discovered the wine industry while working with Chef's Thomas Keller and Joachim Splichal in the top dining rooms of Los Angeles. My passion redirected my career from restaurants/hotels to vineyards and wine-education. Now with over 25-years of experience hosting events; leading trips around the wine world; I published a wine book; produced my own wine called Beekeeper Cellars and sat for the difficult Master of Wine Exam! Today, I am considered one of the region's best wine educators and work for my 20,000 followers (follow me), visiting vineyards and wine regions and produce over 100 wine classes and events a year for my businesses and my team. 
Read More
You may also be interested in